BizInt Smart Charts can convert patent publication numbers, NCT numbers, and DOI numbers in your chart into full-text links when you export to HTML-based formats (HTML, Word, PDF and Excel):
patent publication numbers: patent numbers from supported authorities can go to a variety of public and commercial patent sites.
NCT numbers: go to the corresponding record on ClinicalTrials.gov (added in Drug Development Suite Version 4.5)
DOI numbers: use DOI.org to resolve the link or specify your own link resolver. (added in Drug Development Suite Version 4.5/Patents 4.6)
These features are supported in both BizInt Smart Charts for Patents and BizInt Smart Charts Drug Development Suite.
Note that these "full-text links" are different from both the links to records on publisher websites which are associated with each row in the chart and the links from titles to records created by BizInt Smart Charts.
Step 1 - Enable Full Text Links For a Column
First, identify a column which has publication numbers. Examples are "NCT Number", "Patent Family", "US Patent Number", "DOI Number" and "Trial Identifier." This column must be visible in your chart.
Open the View | Column Properties panel for the column and check the option for your desired links. Note: the link options are not selected by default but will be saved in templates you create.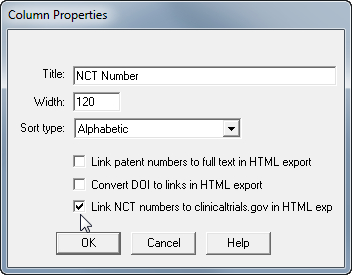 Step 2 - Configure Links
DOI numbers: On the Options | DOI numbers panel, the default is to use https://doi.org/ as the link resolver.  If you want to use your corporate link resolver, look at an existing URL and enter everything before the "10.".
Patent publication numbers: On the Options | Full-text patent links panel, select which service to use for each supported authority.
Note: These settings apply to all charts and all columns.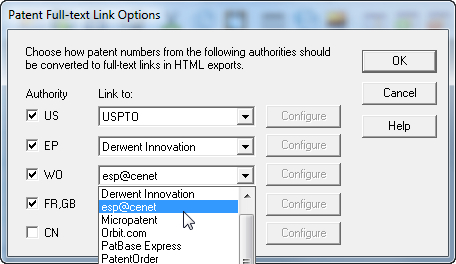 Special Instructions for PatentOrder
If you are using PatentOrder, you may need to configure your base URL in order for the full text links to work properly. To do this, press the Configure button next to one of the authorities.
If you usually use a URL like
http://example.patentorder.com/direct.asp?WO123456A1
you should enter everything before "direct.asp" in the base URL box. In this example, you would enter
http://example.patentorder.com/
You only need to configure PatentOrder Direct for a single authority. The setting will apply to all authorities.
Step 3 - Export to HTML
The full-text links are visible in one of the HTML export formats.
Use File | Export to export your report to HTML, Word, Excel or Acrobat.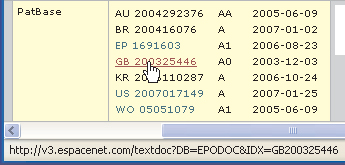 Remember that patent links will only be visible for the supported authorities. Depending on the platform, a userid/password could be required to follow some links.
Updated March 2018.