About Us
The BizInt Team
BizInt Solutions, Inc. is a small software company and we take pride in working closely with our customers.
Diane Webb, Co-Founder and President
Diane Webb is President and CEO of BizInt Solutions, Inc. She has been managing the development of software tools to analyze and present competitive intelligence information since the 1980's.
Prior to 1991, Diane managed several US Government projects to develop much of the core technology later used in Smart Charts. In 1993, she initiated a "defense conversion" project at TRW Inc. to develop the initial Smart Charts software, focused on the pharmaceutical industry. In 1996, Diane and John Willmore started BizInt Solutions to develop and market BizInt Smart Charts.
Diane received her A.B. in Physics and History of Science from Harvard University and her M.A. in the History and Sociology of Science from the University of Pennsylvania.
Diane enjoys graphic design and "fixing up" the interior and exterior of her 1960's home in Seattle, and spends much of her "free" time training and competing with her longhaired dachshunds.
John Willmore, Co-Founder & VP, Product Development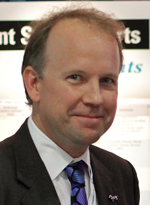 John Willmore is Vice President, Product Development, for BizInt Solutions, Inc. and manages the development of all aspects of the BizInt Solutions product line.
John has over 25 years of experience in processing, analyzing and integrating patent and drug pipeline information, and has worked closely with patent and drug pipeline publishers over that period. He was the head of the TRW Smart Charts team at TRW, Inc. and along with Diane Webb, founded BizInt Solutions in 1996.
John has a B.S. in Electrical Engineering from Rice University and over 30 years experience in software development.
John spends his free time doing woodworking, playing amateur ice hockey, and competing with the dogs. He is an American Kennel Club judge for earthdog, dachshund field trials, and agility.
Bertha Adamson, Product Support Manager
Bertha Adamson has been Product Support Manager for BizInt Solutions Inc. since 1998 and was a member of the original TRW Smart Charts team in the early 1990's. She divides her time between supporting BizInt Smart Charts development and supporting BizInt Smart Charts users around the world.
Ms. Adamson has over 15 years experience in technology training, administration, and support. Her undergraduate degree from Harvard University is in the history of science, and her MBA from the University of Denver is in management information systems. When weather cooperates, she uses her travels to indulge her passion for photography.
Matt Eberle, Lead Developer, Analytics and Custom Solutions
Matt Eberle joined the BizInt Solutions team in July 2013 as Lead Developer for Analytics and Custom Solutions. Matt helps customers use the BizInt Smart Charts and VantagePoint tools to create new solutions to address their challenges and problems.
Matt worked extensively with both BizInt Smart Charts for Drug Pipelines and BizInt Smart Charts for Patents for over ten years at Wyeth, Pfizer and Sunovion, where he held positions of Senior Information Scientist and Pharmaceutical Information Analyst. He is the BizInt expert on VantagePoint - Smart Charts Edition.
Matt has a B.A. in Biology from Colby College and an MSLIS from Simmons College. He is based in the Boston area.
Joe Johnson, Graphics Design & Brand Strategy
Joe Johnson has provided expert graphic design for the BizInt Smart Charts user interface, exports, website, and marketing communication for over 10 years.
Joe originally obtained a B.S. in Mechanical Engineering Technology from the University of Dayton. After working for several years as an engineer, he followed his passion and went back to school, earning an A.A.S. in Visual Communications. His graphic design career includes 9 years of design agency experience, 5 years of experience within corporate marketing & communications departments, and 7 years of as an independent consultant.
Joe also provides graphic design services for our partner Search Technology, as well as a number of healthcare and not-for-profit businesses.
...and the Dachshunds
Our longhaired dachshunds have featured prominently in BizInt marketing materials since the beginning. The current generation includes Asti, Olive, Bossa and Remy, as well as Bossa's offspring Vinca and Vasa (often in Viking themes). We still have materials featuring Brandy and Ouzo. These hard working members of the team are involved in a wide range of dog sports including agility, earthdog, field trials, obedience and rally.
Learn more about the dachshunds at www.doxifun.com
At right are (left to right) Brandy, Ouzo, Asti, and Remy.
Below are (left to right) Guinness, Asti, Remy, Ouzo, and Olive.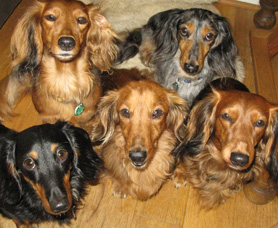 And at right (left to right), Bossa, Olive, and Asti with Santa in December 2012.