News & Events
PIUG 2015
Workshop Registration
BizInt Smart Charts for Patents - Best Practices
Sunday, 3 May 2015
9:00 - 10:30 am: BizInt Workshop

Location
Westin Lombard Yorktown Center
70 Yorktown Center
Lombard, IL 60148
Room: Lilac A (first floor)
BizInt will be sponsoring a "DuPage County Breakfast" from 8:30 - 9:00 am for workshop attendees.
Workshop Description
BizInt Solutions is pleased to offer a workshop in conjunction with the PIUG 2015 Annual Conference.
BizInt Smart Charts for Patents users have developed a wide array of techniques to address the needs of their clients. In this workshop we will share tips for creating better reports leveraging your current patent and IP sequence databases, integrating data in new ways, and even a few ways to use BizInt Smart Charts to help your searching.
After a presentation, stick around - the BizInt team is here to answer your specific questions and take requests for future product enhancements.
This workshop is for both current users of BizInt Smart Charts and VantagePoint and others interested in new tools for analysis and presentation of patent information.
The workshop is free.

Workshop Presenter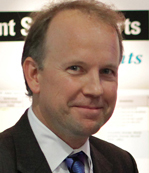 John Willmore is co-founder of BizInt Solutions Inc., and manages the development of all aspects of the BizInt Smart Charts product line. John has a B.S. in Electrical Engineering from Rice University and over 20 years experience in software development. Outside of work, John plays ice hockey and enjoys training and competing with his longhaired dachshunds.