News & Events
PIUG 2013 Workshop Registration
Sunday, 28 April 2013 - 8:30 - 10:00 am
8:30 - 8:45 am: Coffee and continental breakfast
8:45 - 9:30 am: Workshop presentation
9:30 - 10:00 am: Discussion and brainstorming on reports and visualizations
"Creating Patent Reports and Visualizations with the BizInt Smart Charts Product Family"
This seminar is now closed.
Workshop Description
This workshop will demonstrate how to use new features in BizInt Smart Charts for Patents, BizInt Smart Charts Reference Rows, and VantagePoint - BizInt Smart Charts Edition to create accurate and useful reports and visualizations of patent information. We'll show how you can:
create reports combining data from different patent and gene sequence databases and identify related records across databases, using BizInt Smart Charts for Patents;

distribute reports in HTML, Word, Excel, and Acrobat, with links to backing records and related information;
analyze and visualize your normalized and de-duplicated data in VP-SCE.
The workshop will conclude with time to explore the future of reporting and visualization through small group brainstorming and discussion.
This workshop is for both current users of BizInt Smart Charts and VantagePoint and others interested in new tools for analysis and presentation of patent information.
The workshop is free and continental breakfast will be provided.
Workshop Presenter
John Willmore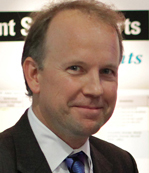 is co-founder of BizInt Solutions Inc., and manages the development of all aspects of the BizInt Smart Charts product line. John has a B.S. in Electrical Engineering from Rice University and over 20 years experience in software development. Outside of work, John plays ice hockey and enjoys training and competing with his longhaired dachshunds.