Products
BizInt Smart Charts for Patents

BizInt Smart Charts for Patents helps you create, customize and distribute tabular reports combining data from the leading patent, gene sequence and non-patent literature databases.
Import search results from supported hosts and databases including STN, Orbit, PatBase, Derwent Innovation, TotalPatent, GenomeQuest, Cortellis, SciFinder and more. BizInt Smart Charts will automatically process the transcript and create the report.
Information from different databases and hosts can be combined into a single report with the table, records and images. The "Identify Common Patent Family" tool helps you identify all members of patent families in your report.

You can distribute reports in several formats, including HTML with links to full patents on public and commercial platforms, including USPTO, esp@cenet, Minesoft, Innovation, TotalPatent and Orbit. Plus, you can automatically detect new and changed information in updated patents reports.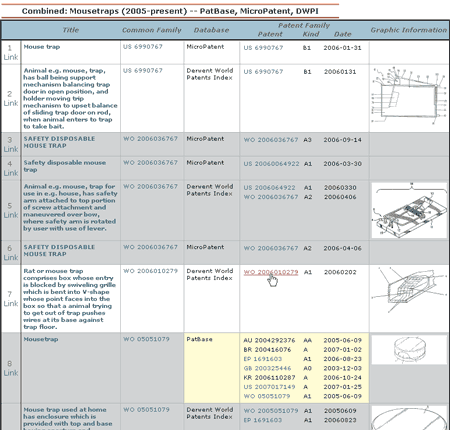 The BizInt Smart Charts for Patents Mini Guide shows you how to use all the key features of BizInt Smart Charts for Patents, including how to:
Save your search results
Create a new chart
View records, and images
Combine & update charts

Identify related records using the "Identify Common Patent Family" tool.
Customize your chart
Print reports
Export reports to HTML, Word, Excel, etc.
Link to full text patents